Welcome!
The mission of stopHIV.com is to help facilitate a united front in the fight against HIV in Commonwealth of Pennsylvania. With guidance from the PA Department of Health, this Website serves as a portal for government, academic and community stakeholders—where the HIV prevention and care community can share important resources and information.
stopHIV.com was created by the HIV Prevention and Care Project (HPCP) at the University of Pittsburgh Graduate School of Public Health, as part of our efforts to assist the Pennsylvania Department of Health in their HIV prevention and care community planning process. In addition to the Website, the HPCP also provides additional initiatives regarding HIV prevention and care resources in the State. For more information about the HPCP, visit the HIV Prevention and Care page on this Website or email us at

This email address is being protected from spambots. You need JavaScript enabled to view it.

. 
Updates:
HIV Planning Group Recruitment has CLOSED
Submission Deadline was Friday, November 6, 2020
Complete the online application, download the documents for mailing/faxing, or contact Corrine for more information.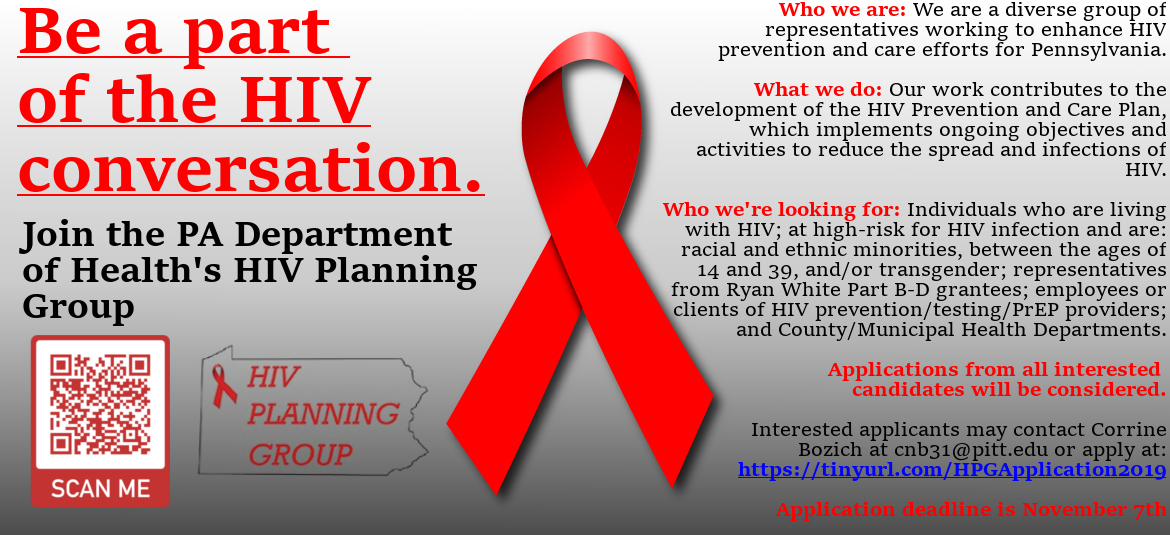 ---
Statement on Content: This site contains HIV epidemiology and prevention messages that may not be appropriate for all audiences.  Since HIV infection is spread primarily through sexual practices or by sharing needles, epidemiology and prevention messages and programs may address these topics.  If you are not seeking such information or may be offended by such materials, please exit this website.